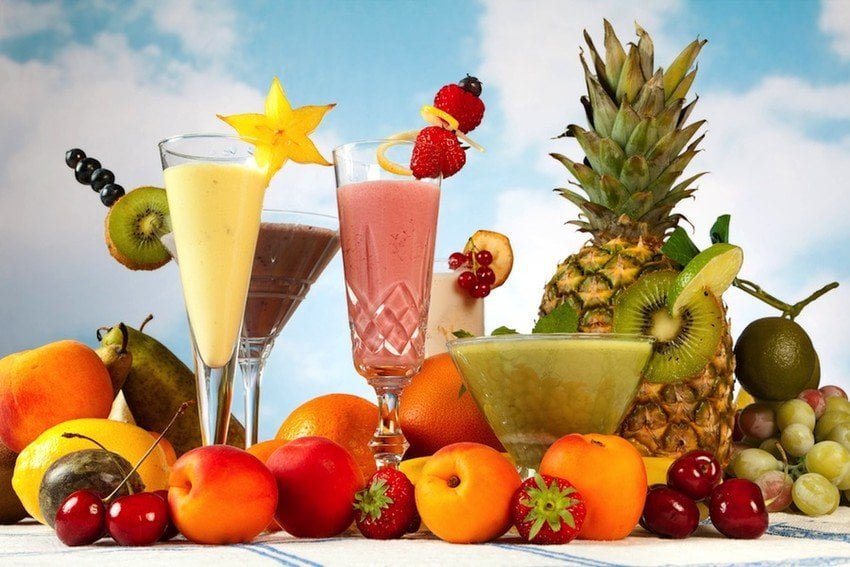 Bored with the S.O.S. (same old smoothies)? When you drink smoothies like it's your job, you need to mix it up! Shake up your breakfast routine and travel around the world with these exotic smoothies featuring the flavors of Mexico, Brazil, Thailand, Turkey and Argentina.
A great guest post from Mind Body Green
'Carioca' Acai Bowl

 — Brazil

Brazil is one of my favorite places. From dancing samba in the parade at Carnival in Salvador, to people-watching at Posto 9 on the beach in Ipanema, it's impossible to be bored there! You'll find acai everywhere. This berry comes from the Amazon rainforest of Brazil and is considered a superfood because it's rich in antioxidants, omega fats, protein, fiber and amino acids.

Ingredients:
2 frozen acai packs (I use Sambazon)
1/2 cup coconut milk
1 ripe banana
Blend until it's sorbet-like texture, then top with anything you'd like! Sliced bananas, bee pollen, berries — I used gluten-free granola, shredded coconut, vegan dark chocolate chips, and strawberries. YUM!!!
For a drinkable smoothie version, use only one acai pack, combine all of the ingredients and blend.
The Quintana Roo

 — Mexico

You would be hard-pressed to find more stunning beaches than those of Tulum, Mexico. Ah, to be there now, relaxing in a hammock, sipping on this smoothie.

Ingredients:
2 cups unsweetened coconut milk
1 cup fresh or frozen mango
½ avocado
few sprigs of fresh cilantro
juice of one lime
(Ice if using fresh mango)
Avocados are a great source of monounsaturated (healthy) fats and also provide potassium (twice as much as bananas), vitamin E, folic acid and fiber.
The Reclining Buddha

 — Thailand

The mangoes in Thailand are to die for!

Ingredients:
2 cups coconut milk
1 cup watercress
2 cups frozen mango
1 tsp galangal (Thai ginger) or 1 inch peeled fresh ginger
2 small stalks lemongrass (discard the outer leaves) or use frozen
juice of 1 lime
handful of cilantro
Cilantro is great for detoxifying heavy metals, easing inflammation, and is rich in vitamins and minerals such as magnesium, potassium, calcium, manganese, iron, and vitamins A, C, and K. Lemongrass has strong anti-microbial and anti-fungal properties.
Turkish Delight 

— Turkey

One of my favorite trips was hot air ballooning over the magical ancient cave city of Cappadocia and soaking in the aromas and tastes of the spice market in Istanbul. This smoothie incorporates the flavors of Turkey and is so delicious!

Ingredients:
2 cups vanilla almond milk
4 fresh figs
2-3 Medjool dates
½ Anjou pear
1 ripe frozen banana
dash of cinnamon & nutmeg
1 tsp organic vanilla extract
Figs provide a lot of fiber, antioxidants and potassium. Dates also provide fiber and potassium and are also rich in minerals like calcium, manganese, copper, and magnesium.
The Gaucho —

 Argentina

If you've been to Argentina, you've seen people walking around sipping a curious concoction out of a gourd through a metal straw. Argentinians LOVE their 'mate,' a traditional herbal tea (yerba mate). It is more than just a beverage; it's a social ritual. This smoothie is inspired by Tereré, an infusion of yerba mate prepared with cold water rather than hot.

*Yerba mate cold brewed may act as a diuretic if you aren't used to drinking this way.

Ingredients:
16 ounces cold water
1 tbsp. loose-leaf yerba mate, or two teabags
1 tsp. raw organic honey (optional)
juice of one lime or 1/2 lemon
8-10 fresh mint leaves
1 tsp. fresh grated ginger
flesh of 1 ataulfo mango (the yellow kind) or 1 cup frozen mango chunks
1 cup frozen peaches
Preparation:
Combine water, honey, mint, ginger, lime juice (or lemon) and yerba mate in a mason jar.
Put the lid on and leave it in the fridge overnight.
In the morning, strain the leaves or remove the teabags.
Pour the infusion in the Vitamix (or blender) and add mango and peaches.
Blend until smooth.
Yerba Mate is rich in antioxidants, vitamins: A, C, E, and B-vitamins, calcium, manganese, iron, selenium, potassium, magnesium, phosphorus, and zinc. It aids in digestion and weight loss, increases focus and provides energy.
Do you enjoy exotic flavors? Share your favorites in the comments below!