We are still in the thick of colds, viruses and flu season, meaning it is all hands on deck when it comes to keeping our immune systems strong and acting like the swat team it is. Sometimes we find ourselves on the verge of getting sick and it's a battle to calm the storm.
So, before you find yourself calling in sick for work do this first. Whenever we start to feel even slightly under the weather, these are the products we reach for to give our SWAT team (aka the immune system) a little more ammo to fight with.
The rapid spread of the novel coronavirus raised the specter of a global pandemic as governments ramped up their emergency responses and financial markets slumped again Thursday, despite signs that the outbreak may be easing. Be prepared. Your immune system is counting on you!  The most important on this page are the first Two Products, followed by the Counter Attack or Wellness Formula. Oh and the Vitamin C, yup it highly available in this form.
Product 1: This stuff is amazing. Argentyn 23® Professional Formula Bio-Active Silver Hydrosol for Immune Support* 4 oz and the 16 ounce bottle is here
Product 2: Salus Defense Structured Silver Liquid  (the other picture below)
Product 3: Argentyn 23® Professional Formula Bio-Active Silver Hydrosol for Immune Support* – 2 oz. (59 mL) Vertical Spray – Colloidal Silver – Colloidal Minerals – Colloidal Silver Nasal Spray
With the Corona Virus having its impact on global health this product and others like it are your best line of defense and offense. colloidal silver contains 99.99% pure silver particles suspended indefinitely in demineralized water that kills bacteria and viruses. … Thus colloidal silver is absolutely safe for humans, reptiles, plants and all multi-celled living matter.Jan 29, 2019.
READ THIS: Metal nanoparticles: The protective nanoshield against virus infection
Critical Reviews in Microbiology, 2016
The following are just a few of the studies supporting the antimicrobial functions of colloidal silver.
Spectrum of antimicrobial activity associated with ionic colloidal silver.
Journal of Alternative and Complementary Medicine, 2013
Silver Enhances Antibiotic Activity Against Gram-Negative Bacteria
Science Translational Medicine, 2013
Colloidal silver: a novel treatment for Staphylococcus aureus biofilms?
International Forum of Allergy & Rhinology, 2014
Efficacy of some colloidal silver preparations and silver salts against Proteus bacteria, one possible cause of rheumatoid arthritis.
Inflammopharmacology, 2014
Mode of antiviral action of silver nanoparticles against HIV-1
Journal of Nanobiotechnology, 2010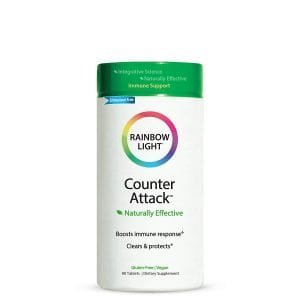 Rainbow Light Counter Attack, Supports Immune System. This stuff is the bomb, there is a REASON it has very high ratings on Amazon. It is stacked with some of our favorite ingredients as you will see. I take two in the AM and two in the PM.
SUPPORTS IMMUNE SYSTEM HEALTH: Ingredients include herbal blends of powerful ingredients that support immune system health "

TRIPLE ACTION FORMULA: This immune supplement contains a high potency vitamin C and an excellent source of zinc along with 3 targeted blends for overall immune support.

IMMUNE SUPPORT COMPLEX: Uses a blend of soothing botanicals xanthium, yerba santa, polygala and mullein

RESPONSE MOBILIZING HERBAL COMPLEX: Contains 840 milligrams of Response Mobilizing Herbal Complex blended with andrographis and berberine to support the body's immune response

NO COMMON ALLERGENS: Tabs contain vegan ingredients and are free of common allergens like soy, peanuts, eggs, fish and shellfish and gluten free
Fast, all-natural relief from allergies and sinus congestion – without drugs!
Bundle includes Naväge Nose Cleaner and 38 SaltPod Capsules, and Naväge Countertop Caddy.
World's only nose cleaner with powered suction, Naväge flushes out allergens, mucus, dust, and germs.
For safety, effectiveness and exceptional convenience, the Naväge Nose Cleaner only operates with genuine Naväge SaltPod capsules.
You'll LOVE that clean nose feeling!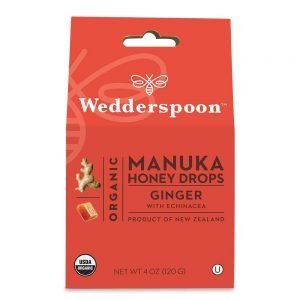 SMOOTH AND SWEET: Soothe throats with this time-tested recipe still crafted with care in small batches. Perfect for cold, flu and allergy season. Each box contains approximately 20 drops.
ONLY ORGANIC: Wedderspoon's ingredients are Certified Organic. Made without gluten, dairy, or nuts.
GINGER: Help soothe your sore throat with our Ginger Honey Drops. Made with NO artificial colors, flavors, or preservatives.
MANUKA HONEY: Our Manuka Honey is Raw, Unpasteurized, EcoCert Certified Organic, and Non-GMO Project Verified. Sourced, packed, and labeled in New Zealand for genuine, unadulterated quality.
ON-THE-GO SOOTHING: Individually packed, 20 count Honey Drops. Easy to carry with you for immediate comfort.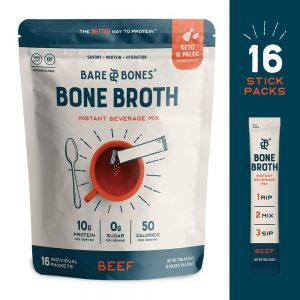 Bare Bones Bone Broth Instant Beverage Mix, Beef, 10g Protein, Keto & Paleo Friendly,
SUPERIOR INGREDIENTS: REAL beef bone broth, grass-fed beef collagen, prebiotic fiber, apple cider vinegar, tomatoes, shiitake mushrooms, and freshly ground herbs and spices

THE GOOD STUFF: Bare Bones Instant Beverage Mix is Non-GMO, gluten-free, soy-free, and dairy-free; has no added flavoring, preservatives, artificial ingredients, or MSG

SUPER SNACK: With 10g protein, 0g sugar, and 50 calories, the Bone Broth Instant Beverage Mix is an excellent source of protein, collagen, minerals, and essential amino acids for sustained energy and appetite control

ON THE GO: Our broth mixes with hot water in seconds, with taste and consistency of homemade bone broth!
Mercola Liposomal Vitamin C Absorbs FAST When I feel a cold coming on, vitamin C is the first thing I grab.   is more bioavailable than other forms of this nutrient and has been shown to be absorbed up to 50 percent more by your white blood cells than other vitamin C supplements!
By utilizing phospholipids in their formula, they aid in the formation of protective liposomes in the stomach and help to reduce the potential of gastrointestinal distress typically associated with traditional oral vitamin C.*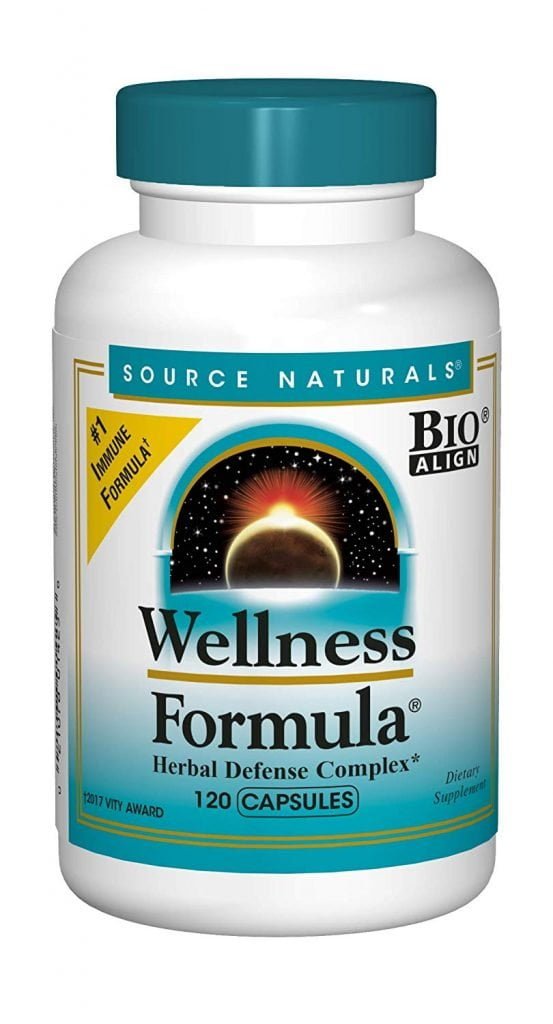 Source Naturals Wellness Formula Bio-Aligned Vitamins & Herbal Defense – Immune System Support Supplement & Immunity Booster
MY GO TO TRUSTED PREMIUM SOLUTION – 35 years ago,  Wellness Formula established the industry's immune health category with a comprehensive blend of herbs, vitamins, and nutraceuticals that deliver immune, respiratory, and antioxidant defense. For millions of people Wellness Formula has become the "go-to" product for everyday immune support. Whether you are prone to sickness and striving to avoid sick days or someone already actively using supplements, Wellness Formula adds defense like no other.
POWERFUL ANTIOXIDANT DEFENSE – Antioxidants are a critical component of immune health, as they prevent free radicals from being formed or from causing damage to our immune system protecting white blood cells. Wellness Formula provides key antioxidants such as vitamin C, vitamin A, beta-Carotene and grapeseed to provide antioxidant defense, as well as clinical doses of zinc and copper which are both important ingredients that defend against superoxide radicals.
Dragon Herbs Spring Dragon Longevity Tea – 40 Organic Tea Bags – 120 Cups – Made with Organic Grown Gynostemma – All Natural, Non-GMO, Caffeine Free, Premium Grade,
THE ULTIMATE HERB BLEND, Aimee and I love this tea! – Spring Dragon Longevity Tea is a blend of six chopped herbs. This organic tea is Ginseng, Goji Berry, Schizandra berry, Astragalus, Luo Han Guo fruit, and Gynostemma leaves all in one tea bag to bring you the perfect calming, antioxidant, immune supporting, circulation supporting, digestive aiding, detox, weight maintenance, cleanse teas.
Double up on it during flu season.
Also, remember to drink half your bodyweight in ounces of water per day, not to mention get to bed by no later that 10:PM See The Sleep Debt Post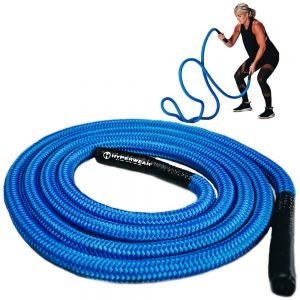 Exercise Piece of the Month for me is definitely the Hyperwear Hyper Rope Fluid Metal Core Short Unanchored Take Anywhere Premium Exercise Rope for Battle Rope Workouts, I have LOVED that it does NOT need an anchor. This was an amazing addition to my daily routine. You will love it!
SPACE SAVING get the impact of a 50FT pro rope workout in 6FT of space making the Hyper Rope the ideal gym rope or addition to your home gym equipment.
Hyperwear Hyper Rope Fluid Metal Core Short Unanchored Take Anywhere Premium Exercise Rope for Battle Rope Workouts GET THE BENEFITS of upper-body cardio battle ropes training in a heavy flexible metal core braided rope you can take anywhere and use in tiny spaces with no need to anchor allowing a range of more creative exercises like russian twists and chest fly